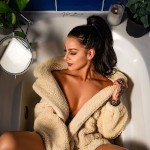 Evelin Stone
About evelin stone
Evelin Stone is one of the hottest pornstars to hit the scene in 2017. Shes a cute brunette who decided to join the porn biz when she was 24 years old. Shes glad she didnt try it when she was 18, because by 24 she had gained some real experience with sex and life. Shes a natural beauty who stands 5 feet 5 inches tall and weighs 127 pounds. She has sexy 32C breasts and a 26inch waist with a 29inch booty. One of her claims to fame is that shes one of few pornstars of Native American descent. Fully bisexual, Evelin loves pussy as much as she loves cock, and there are videos out there to prove that. Shell lick a pussy eagerly and suck a dick the next moment. Ms. Stone is basically down for anything and everything. Shes done scenes where she has dressed up like a superhero, other ones where she wore a bridal gown, sensual scenes where romance was in the air, and hardcore rough sex blowjob scenes. Evelin describes herself as an adventurous girl who loves to meet random people. Before porn she had an enjoyable job but it didnt pay enough so she started camming and exploring her sexuality. She also made her own videos to sell online. It was all just a fun hobby for her but agencies courted her and she joined one to get more gigs. Evelins porn fantasy is a boyboygirl threesome so she can have her cake and eat it, too!
Relationship status:
Single
Interested in:
Guys and Girls
City and Country:
Miami, US
Career Start and End:
2017 to Present
Birth Place:
Fort Lauderdale, Florida, United States of America
Interests and hobbies:
I love hiking, dance classes, trying new foods, and a good fucking. In my free time, when Im not feeling myself up or getting off, I tend to work out, make new fun content with new friends, and hang out with my puppy Bulma.
Turn Ons:
Uncut Cocks, Broad Shoulders, Sexy Smile, Clean, Takes Control, Makes Me Beg, Makes Me Cum Multiple Times.
Turn Offs:
Insecure, Cocky, Cheater, Sloppy in bed, Lazy in bed, to much, Prudes.