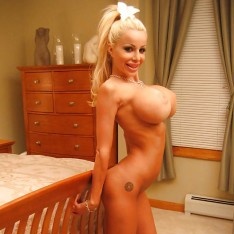 Danielle Derek
Birthplace:
Bloomfield, New Jersey, United States of America
About danielle derek
Great porn is all about pushing your body to the limits. Whether its stretching out your mouth cavity and relaxing your gag reflex, enduring hours of intense crotchslamming and asspounding, or just letting yourself get showered with jizz from head to toe, your body gets put through one hell of a sex ringer. But there are other ways to test your physical limits outside of a porn set, and megabusty slut Danielle Derek is a record leader when it comes to transforming the natural dimensions of her figure. This girl is currently sporting a pair of 34FFF jugs. We cant even tell you how many Ds come in 3 Fs of tit awesomeness, but youll undoubtedly be making air gestures the second your eyes expand wide enough to take in their huge magnificence. Danielle has been back to those magic doctorartists on several occasions to keep the expansion going, because she really wants to be the 1 bigtitted babe in the biz. She doesnt stop there, though, because Danielle knows the next step is to get truly nasty on set. Danielle is a true cum junky who slobbers down mega shafts before, during, and after some deep penetrating anal fuck jobs. She loves it in the ass just as much as the pussy, often jumping back and forth between the two. This girl from Bloomfield, New Jersey, certainly has come a long way by winning a spot in our hearts, our balls, and our hidden porn folders.