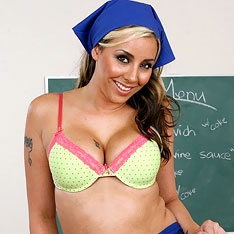 Delilah Strong
Birthplace:
Poughkeepsie, New York, United States of America
About delilah strong
Delilah Strong is an allAmerican girl you cant take home to your parents but whom you want to take to your bed. She has never been shy of holding a dick or two in her hand or in her mouth. She was born in Poughkeepsie, New York, in the month of July. She holds an astrological sun sign of Leo and never minds being in the spotlight of a lusty time. Delilah has many performer aliases, including Delilah Damone, Dalilah Strong, Delilah Stroney, and Delilah Damonne. Beautiful from head to toe, she has body measurements of 34C2636. She got surgery to increase her breast size from B to C in July 2007, but fans and porn lovers enjoy her body and her personality either way. The blondehaired Caucasian sometimes changes her hair color andor style, and the 59 tall beauty weighs 129 pounds. Theres no info on whether Delilah has any body piercings but she does have some ink, including a bunny head on her right breast, a tattoo on the outside of her left calf, Angel with a red devil tail weaving through letters on her right bicep, one on her lower back, kissing lips on her left buttock, cherries and a purple shape above her left pubes, and a tattoo between her shoulder blades. Delilah began her porn career in 2004 at age 22 and retired in 2013. Known for her excellent cocksucking skills, which can be seen in many of her scenes, shes no stranger to interracial play or getting cum all over her face. Even though shes retired, you can watch her any time on Pornhub. Delilah amassed over three hundred performer credits throughout her career, so theres much to take a gander at. A few of the greats of Delilah include, Delilah Strong Cum, Fuck Slaves, and Delilah Strong Proud to be a Dirty Slut. Whats cool about Delilah is that she truly gives her all, and you can easily conclude that her face movements and noises are 100 genuine!