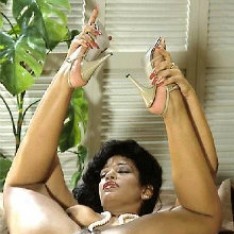 Vanessa Del Rio
Birthplace:
New York City, New York, United States of America
About vanessa del rio
Vanessa Del Rio is so many checkmarks on your wank list massive boobage, check, Latina heat, check, decades of experience, check, mean maneater, check check check mate! Vanessa is so full of sexual energy, its no wonder her tits and ass look like theyre about to burst open with fuck pounds. You know shes fully fuckcharged because of her long and thick clitoris which begs for stimulation. Guys better work out overtime and do some serious stretching before attempting to satisfy this depraved mamasita. Shes a big and hefty babe who puts every ounce of her body into fucking the brains out and balls off some lucky guy. Strong and tough, Vanessa can trap someones head between her thighs and force them to keep tonguefucking her big clit and engorged vagina until theyre in her womangoo. She can sit on a face and smother it with her hairy bush or fat ass and wont stop until shes ready for a stuffing. This CubanPuerto Rican honey was born in Spanish Harlem. She used to work in some office behind a computer but kept distracting all the men there that business probably went under, so Vanessa packed up her gear and started hitting the poledancing scene. Hundreds of movies and awards later, Vanessa and her extralarge clit have become household names and decorated lockerroom doors across the globe, and today, this Mami is hornier than ever.